Premiering April 22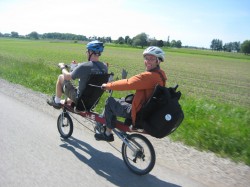 Taking a cross-country road trip without a car – that's the goal of quirky eco-adventurer, Boaz Frankel. Join him on his 12,000 mile journey by camel, couch bike, canoe, motorized cooler and 100 other modes of transportation as he meets inventors, entrepreneurs and government leaders on his quest for alternative, sustainable transportation. It's the most unique and unusually challenging road trip you'll ever see. It's "The Un-Road Trip," a Halogen original series.
EP 1 – "Onward From Oregon"
Boaz kicks off his car-free cross country journey on a motorized cooler, sweats through car-centric Los Angeles and discovers the walking rickshaw in Chicago.
EP – 2 "Cruisin' To The Capitol"
Boaz uncovers the secret Senate subway in Washington D.C. and dodges alligators on Lake Okeechobee in Florida while stormy seas threaten to wash out the trip!
EP 3 – "Oh, Canada!"
Boaz discovers the future of transportation at MIT, takes to the air in a 1920s barnstormer and finds a biking bonanza in Canada.
EP 4 – "Westward Bound"
As Boaz heads back west, he powers through Minneapolis on a Pedal Pub, jams with a jug band jam on a seven-man bike and wraps up his amazing journey back in Portland on a velomobile.
Boaz Frankel curates a kazoo museum in South Carolina, has surveyed wombat burrows in the Australian bush, and he's a Guinness World Record Holder for high-fiving. He's has also been making documentaries and TV shows since 2001. Boaz has never owned a car though he's recently been thinking about buying a bright yellow electric-assist recumbent tricycle  Follow Boaz: @boazf Boaz's Website
Episode 1: Onward from Oregon – April 22 at 8pm ET. Bay Area Rapid Transit – www.bart.gov The Vallejo Baylink Ferry – www.baylinkferry.com Pi Mobility Bikes – www.pimobility.com Santa Barbara Car Free – www.santabarbaracarfree.org Episode 2: From Cali to Camels – April 29 at 8pm ET. Helen's Cycles – www.helenscycles.com Vurtego Pogo Sticks – www.vurtego.com [...]